'Double Divas' gives goat in Henry County a lift
With most ladies of a certain age, gravity takes its toll. Things — well — lengthen and are not as perky and firm as they once were.
But in Betty's case, her parts were dragging on the ground.
All around her pen, she'd walk around with her — um — large endowment shuffling in the dirt and hay.
"She's getting older and has some stretch issues," explained Kathy Jacobs, her "mother."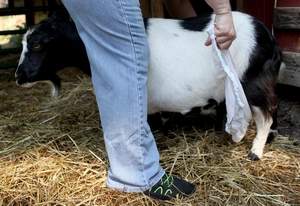 Betty is a myotonic goat, otherwise known as a fainting goat, a type of domestic goat whose muscles freeze for 10-15 seconds when the animals are startled or feel panic.
But unlike the dozen or so other goats at Goat Hill Farm in Henry County, Betty has exceptionally large udders, which become even more engorged and droopy when she gives birth — which she does often.
Like other ladies who find themselves in need of some help — an extreme makeover, if you will — Betty turned to reality TV
. And she got results. She will be featured on the Lifetime show, "Double Divas," at 10 p.m. Tuesday.
"Double Divas," now in its second season, follows Cynthia Decker and Molly Hopkins, "reality television's most uplifting duo." They own LiviRae Lingerie in Kennesaw, Ga., and they make bras. Their motto: "No bust too big or small. We fit them all!"
But Betty's bust was a new one.
She is the first animal to be on the show, said Brandy Kirschner, casting director for NorthSouth Productions, which produces the show.
"It is a mom, and she has babies to feed," Kirschner said. "They had a mission, whether she was a person or a goat."
Read entire article and see video here.