Internet Freaks Over Pregnant Weight Lifter
BUT LEA-ANN ELLISON FEELS GREAT, EXPERTS SAY SHE KNOWS WHAT SHE'S DOING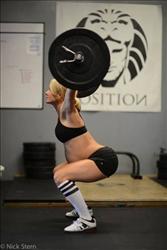 (NEWSER) – Lea-Ann Ellison, a dedicated CrossFit follower and expectant mom, is now on the receiving end of quite a bit of Internet vitriol after pictures of her lifting weights (and not exactly tiny weights) two weeks before her due date went viral. The pictures were posted onFacebook, with captions like: "8 months pregnant with baby number 3 and CrossFit has been my sanity. I have been CrossFitting for 2-and-a-half years and strongly believe that pregnancy is not an illness, but a time to relish in your body's capabilities." Some commenters praised the 35-year-old, but others decried her choice of such an intense routine, with some worrying she'd hurt her baby, the New York Times reports.
Ellison responded by talking to a parenting website last week, noting that her weight-lifting routine has vastly improved her pregnancy: "I have none of the ailments that most pregnant women complain. No back aches. No sciatic nerve issues. No sickness or cravings." (She also noted she wasn't lifting nearly as much weight as she normally would have.) Now the Times talks to a maternal fetal medicine specialist, who agrees that exercise during pregnancy is a good thing for both mom and baby—as long as you don't overdo it. Typically, heavy weight-lifting is discouraged, he says, but someone experienced like Ellison probably knows how to put more of the pressure on her arms, and less on her abdomen, uterus, and cervix. "This woman obviously has been lifting for a long time," he says. "But for a regular person, it's not advisable."
Article found at newser.com – here.